#brandpreference
#travelindustry
#businessstrategy
Building up differentiation and influencing choice is crucial to growing a business in the challenging service sector
The online travel agency sector has boomed in the last few years, increasing the number of options customers could choose. With a heated market, brands struggle to differentiate and increase market share. In this challenging scenario, our client aimed to understand how to build preference among consumers and grow business.
The brand preference framework simplifies the many business dimensions involved in preferring a brand to help brands prioritize what is important to drive growth
First, to understand brand performance in the market, we used a powerful framework that encompasses all the most important business dimensions that drive preference: the Brand Preference Framework.
Brand Preference is the only proven KPI that is statistically correlated with market share and business growth. Different from other KPI's, Brand Preference is a consumer centered metric that put people's sentiments, opinions and relationships with the brand at the center of the business decision. Finally, as the outcome of all marketing and business actions, preference can be explained through a multidimensional approach that takes into account the entire experience customers have with a brand. In that sense, the Brand Preference Framework approach consists of five main dimensions: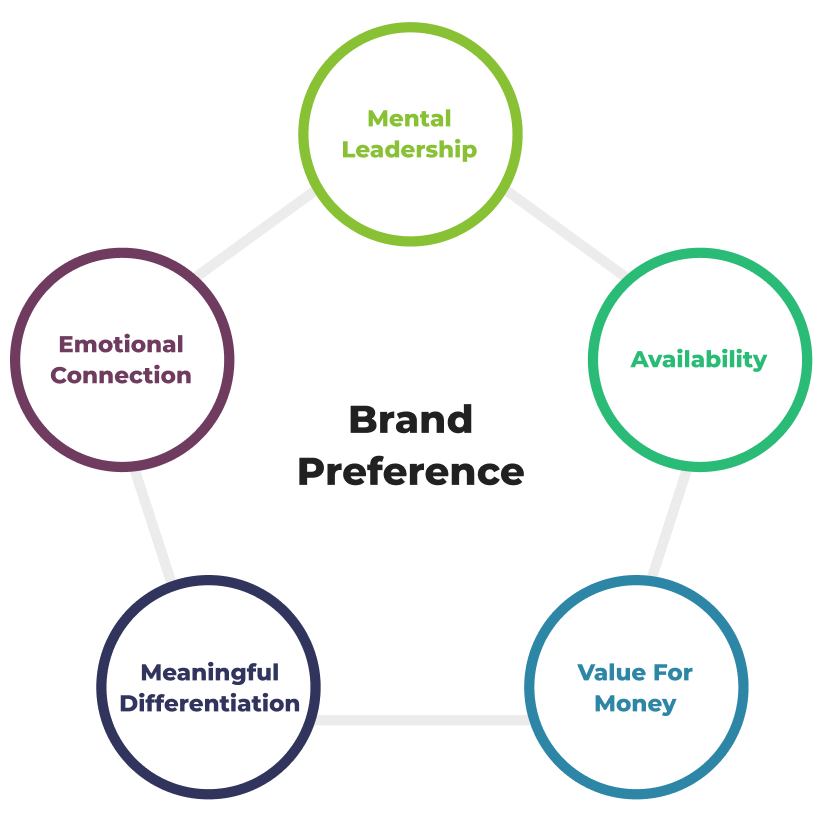 Mental Leadership
Brands that are perceived as mental leaders are often preferred in their field. They are Top of Mind and benefit from higher conversion rates
Availability
A preferred brand offers proximity. Distribution and advertising is instrumental to build proximity
Value for Money
Preferred brands look at value and how this is offered to customers. In many cases at a price well above average
Meaningful Differentiation
Preferred brands differentiate with a clear consumer benefit, uniquely tied to the brand
Emotional Connection
The strength of emotional connection is one of the most important indicators of brand preference
In order to measure the performance of the brand throughout all these indicators, we conducted a survey with more than two thousand customers across the USA. The results of the survey clearly showed which dimensions the brand lacked in differentiation compared to key competitors and, therefore, should prioritize in order to increase preference in the USA. Also, it was possible to gain a clearer perspective on how preference is built in the online travel industry and the different existent competitor strategies.
Becoming the most preferred brand is not only about branding, but about having a cohesive business strategy built on people's true demands